So as we all know, the Department of Tourism launched a new tourism logo and slogan — "It's more fun in the Philippines"! But for Typhoon Sendong (international name: Washi) victims in Cagayan de Oro City, Iligan City and Dumaguete, things weren't exactly "fun" ever since the December 16, 2011 floods. To date, more than 1,400 people have died in CDO alone and hundreds more are still missing. In Iligan and Dumaguete, it's the same scenario. Lots of lost lives, damaged properties and broken dreams.
Slowly but surely, however, things are picking up, thanks to selfless volunteers and generous souls. For weeks, so many relief operations were launched. Then rehabilitation efforts.
Now, it's time to REBUILD.
And for Kagay-anons, tourism can really play a big role in rebuilding CDO. This is why a movement called "Barog, Kagay-anon" (Move, Kagay-anon), a series of events that aims to revive CDO tourism, was launched just recently. Mindanaoan.com was even invited to join the activities.
Now, here's even more good news! The Department of Tourism – Regional Office X has released a travel advisory that officially states that one of Cagayan de Oro City's tourist draws – white water rafting – is finally back! White water rafting services in CDO are now fully operational again! 😀
Here's the full text of the Department of Tourism travel advisory: (duly signed by Regional Director Catalino Chan III)
"This is to inform the traveling public that starting January 5, 2012, the White Water Rafting Adventure activities in Cagayan de Oro City is now fully operational. Guests can now enjoy the thrill and excitement of this major river activity. Oro Rafters Association (OAR), the official organization of White Water Rafters in the city already conducted clearing operations along riverbanks and its tributary bodies of water within the course covered by its operations. Logs, debris and other objects that could possible harm the guests have been removed.

All major road networks in the city are generally passable. Public transportation is available, sea and air transportations are fully operational. Hotels and other tourism related establishments are likewise in full operations despite the scarcity of water due to the Typhoon Sendong. Tourists are advised to visit DOT – 10 Regional Office located at the Ground Floor of Don Gregorio Pelaez Sports Center, Velez St., Cagayan de Oro City."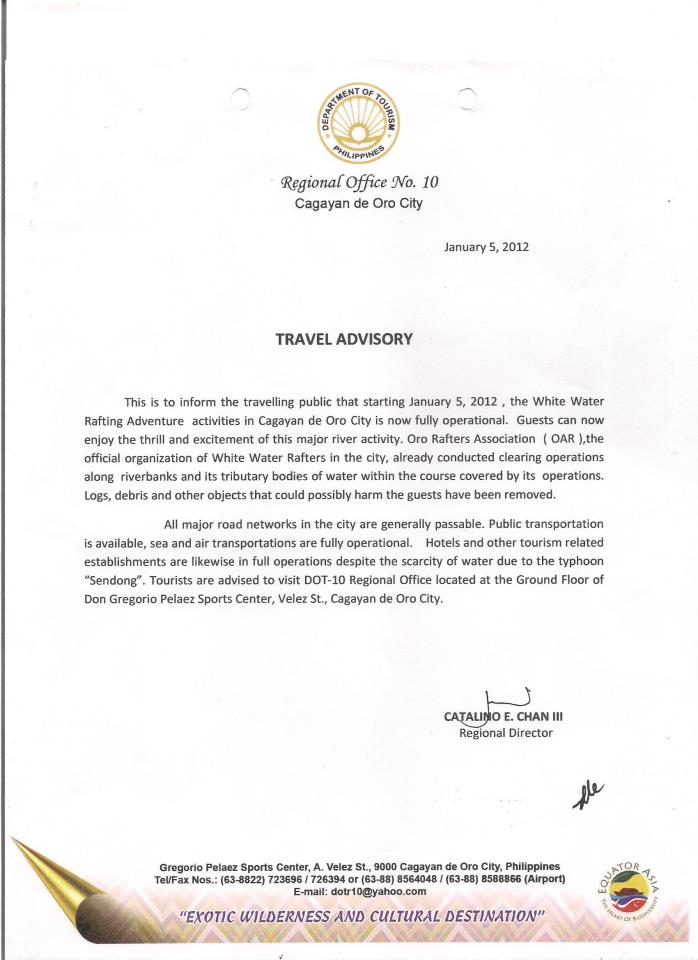 During our "Barog, Kagay-anon" activities, we tried Great White Water Tours 🙂 Go book your amazing CDO adventure now!
And please don't forget to book your airline tickets via Airphil Express 🙂
You can also book your hotels/accommodations via the hotel booking engine found here on Mindanaoan.com – Or you can check out my reviews of various Mindanao hotels HERE. Thanks!