This Filipino blogger is currently here in the United States of America to participate in a US Department of State-sponsored International Visitor Leadership Program (IVLP). You can read more about my current trip HERE.
I'm very proud to let you all know that I'm the only Filipino and the only female in this group 🙂 I will share as much as I can (and as much as I am permitted to) with you all. If you want to follow my U.S. escapades, you may want to SUBSCRIBE TO MINDANAOAN right now (click and please don't forget to verify!) or follow my official Facebook Page.
For now, what I want to share with you all in this blog post will be my experience traveling from Manila to Washington, DC – the first stop of my U.S. trip. Hopefully this article will help those of you who will travel the same route or even those of you who will travel to America from the Philippines.
Just in case you're wondering, I took Airphil Express from Cagayan de Oro City to Manila, of course 🙂 Airphil Express is the official carrier of Mindanaoan! Thank you to my Airphil Express family for all the help!
So anyways…most, if not all, flights from Manila to the USA depart from NAIA 1 or Ninoy Aquino International Airport 1 (also known as Terminal 1). NAIA 1 is the main international gateway for travelers from and to the Philippines. My Manila to Washington DC flight was at 6 AM so I had to be at the airport at least 3 hours prior to departure. I arrived shortly before 3 AM.
There were a LOT and I mean A LOT of people outside the airport when I arrived. Mind you, though, most of those people were not passengers. Instead, they were family members sending their loved ones off. There were a lot of OFWs (overseas Filipino workers) and their loved ones all huddled and said their goodbyes. It was a truly Filipino sight – families alighting from a jeepney, some have plastic bags full of dried mangoes, otap and crackers and some busy pushing Balikbayan boxes with addresses written on the surface. Somehow (and this happened to me) you'd feel a tinge of loneliness. I may only be away from home a little over a month but can you imagine those who have to be away for years? Must be difficult.
Anyways, you will be required to pass through a scanner at the main door of the airport. As soon as you and your baggage are cleared, proceed to your airline counter. It was a good thing that I arrived early because there was a long queue! Interestingly, as soon as it was my turn, an airline employee asked me a couple of questions like if I packed my stuff myself, if a stranger requested me to bring a package or if I had dangerous items inside my suitcase. I found the questions interesting only because I doubt anybody would admit that they're carrying dangerous items.
After check-in, I went to the immigration area. That was where I had to pay the dreaded Php 750.00 terminal fee. After payment, I joined the queues at the immigration counters. There was a little drama that day, by the way. While I waited in line, an immigration officer chased two women, grabbed their passports and said (in a very loud voice) that they could not leave. Not really sure what happened there, though.
Immigration stuff was quick. I then proceeded to the pre-departure waiting area. Interestingly, I had to go through another scan. I also had to take off my shoes, belt etc. After all that, I finally sat at the waiting area, glanced at my watch and realized I barely had 20 minutes left before boarding.
Now the plane that I took was a Boeing 747 Airbus. It was huge and I mean HUGE. Because there were hundreds of passengers, boarding procedure was by "zone." My seat was in Zone 2. Thankfully it was an aisle seat!
From Manila, the plane flew to Nagoya, Japan. The Manila to Nagoya Japan flight took about 3 hours. The passengers had to deplane since we had a layover of about 2 hours. So while waiting, I just took a few photos around the Nagoya airport and checked out the duty free shops. There was also fast and free wireless Internet in the airport so I was able to update my Twitter, Facebook and Foursquare accounts.
Finally, we boarded the plane once more. From Nagoya, Japan, it took about 11 hours to travel all the way to Detroit, Michigan. I knew it was going to be a tiring trip so I somehow came "prepared." I frequently stood up and stayed at the exit area near the lavatories. I also did a few in-flight exercises like twisting my ankle, pointing my toes and stretching my legs. It also helped somehow that the airline provided us with a small pillow and a wool blanket. Plus the food they served us was good! They also frequently served complimentary drinks such as sodas, juices, coffee and tea. The meals they served were also warm and delicious. Not bad for airplane food!
The flight was safe and smooth. To keep the passengers entertained, the airline provided each and every passenger with a pair of complimentary headphones. You could use them to either listen to music or listen to the audio of the movies that they will air during the flight. I watched "Moneyball," "The Big Year" and a couple more movies during the flight.
After several hours, we finally arrived in Detroit! All passengers had to deplane and go through immigration since Detroit was our point of entry in the US.
By the way, the flight attendants will distribute forms during the flight. These are the immigration and customs forms. Accomplish these and write in bold letters. Bring these forms along with your passport. Present those, along with other pertinent documents, to the immigration officer.
My encounter with the US immigration officer was okay. He asked me how long I intended to stay and if I knew which states I was supposed to visit. After immigration, I collected my baggage and proceeded to the connecting/domestic flights section.
I had a nearly 3-hour layover in Detroit so I kind of took my time and just explored the airport. I was supposed to ride a smaller plane that would take me to Washington DC.
This was what greeted me in Detroit airport: (it's a tunnel and the lights change frequently)
Here's a quick tip, by the way — you MUST ALWAYS check the arrivals/departures/flight time screens. Always be aware of last minute changes. I should know because my flight was supposed to leave at a certain terminal but after like an hour, I rechecked the screens and I found out that my terminal number changed! I had to walk a good 10 minutes to reach my new departure area.
While waiting for my Detroit to Washington DC flight, I met a really nice Filipino couple. They were immigrants. They said they've lived in Falls Church, Virginia (which was about an hour away from Washington DC, they said) for decades and that they just spent a nice vacation in the Philippines. I also spotted 3 other Filipinos who were on their way to Washington DC.
My Detroit to Washington DC flight was about an hour and fifteen minutes long. All of us were served complimentary drinks, by the way. I found that really fascinating only because our airlines back in the Philippines hardly serve free drinks.
Now for those of you who will travel from Detroit to Washington DC during winter or winter/spring time, it's best to bring a thick jacket, a pair of gloves, perhaps a beanie and a scarf or two. I traveled early March and the weather in Detroit was really cold! For someone like me who was born and raised in a tropical country, the freezing cold weather was (and still is) a pain.
Good thing these greeted me in Washington DC: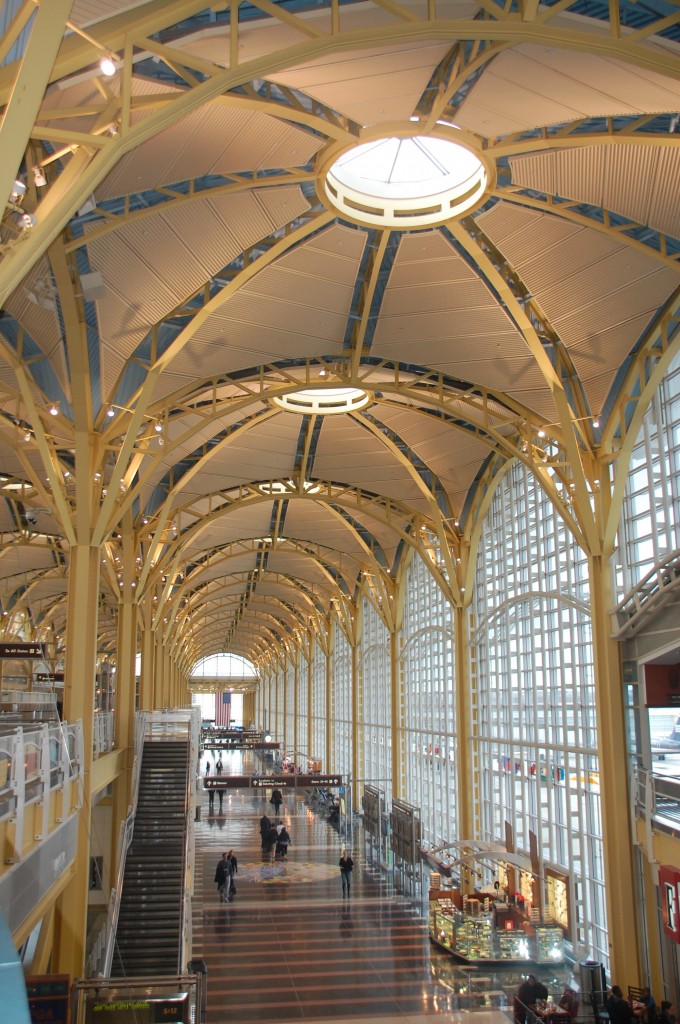 Welcome to the USA!
Next up: my temporary home in Washington DC!