Ever wanted to tour Cebu islands in style? Here's one Cebu adventure you must try!
I have always wanted to go on a Cebu island hopping trip. Who hasn't heard of the beauty of the Pandanon white sandbar as well as the rich and lovely marine life at both Gilutungan and Talima Marine Sanctuaries? Add to that the fact that I absolutely love to swim and snorkel. What best way to do all that but to go on an island hopping adventure in Cebu, right?
Fortunately, my wish was granted just a few days ago, much thanks to Islands Banca Cruises.
My recent Cebu island hopping adventure aboard Islands Banca Cruises was made possible by the generosity of Islands Group President and Chairman Jay Aldeguer and with the able assistance of Islands Banca Cruises marketing officer Jefferson Cruz. Islands Banca Cruises Cebu is part of the Islands Group – yup, the same company that runs Islands Souvenirs and Islands Stay Hotel.
Actually, my island hopping Cebu trip was extra special because I got to bring my mother, brother and cousin along! We were 4 very lucky sun, sand and sea worshippers, folks!
We went to the Island Banca Cruise dock (just past Shangri-La Mactan Resort but right before Movenpick Resort and Spa Mactan) several minutes before 1 PM. You can see this right before you reach Movenpick (formerly Hilton Cebu):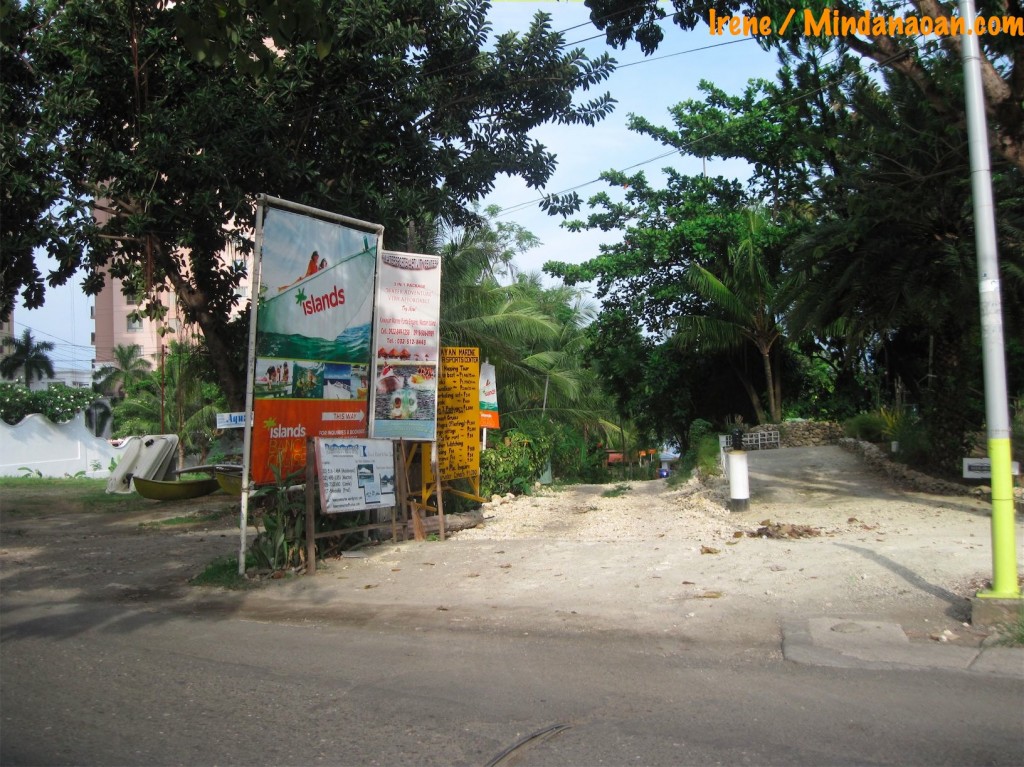 This is the Islands Banca Cruise office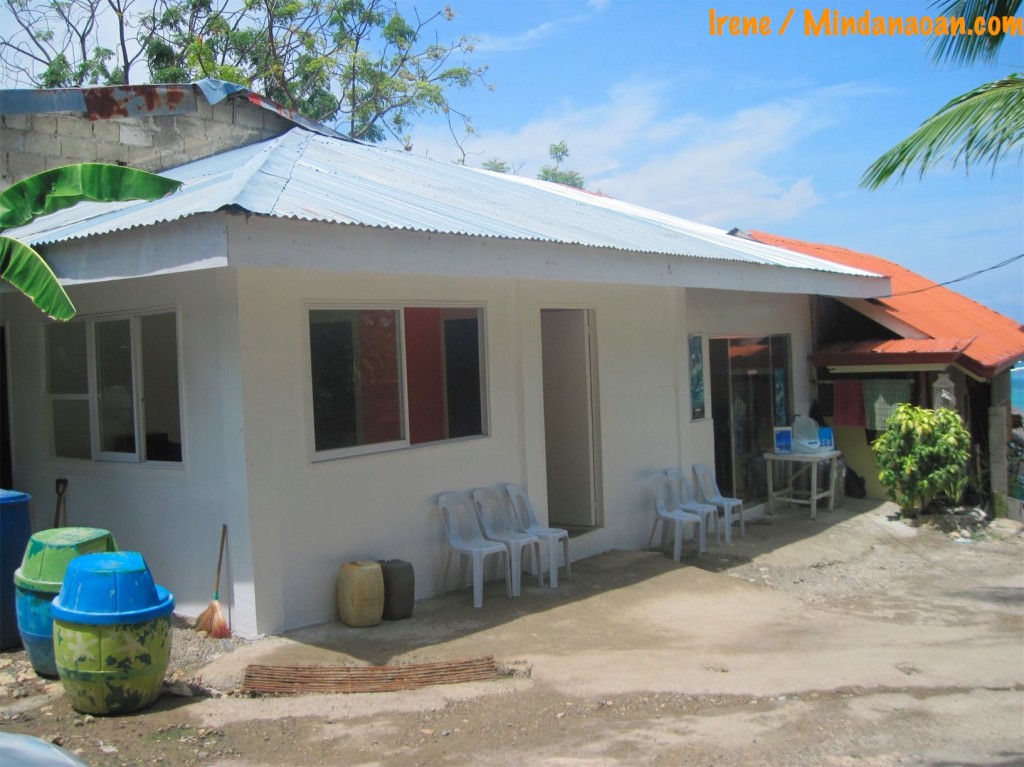 You can't see it here but on the right, there's a nice nipa hut where you can stay and wait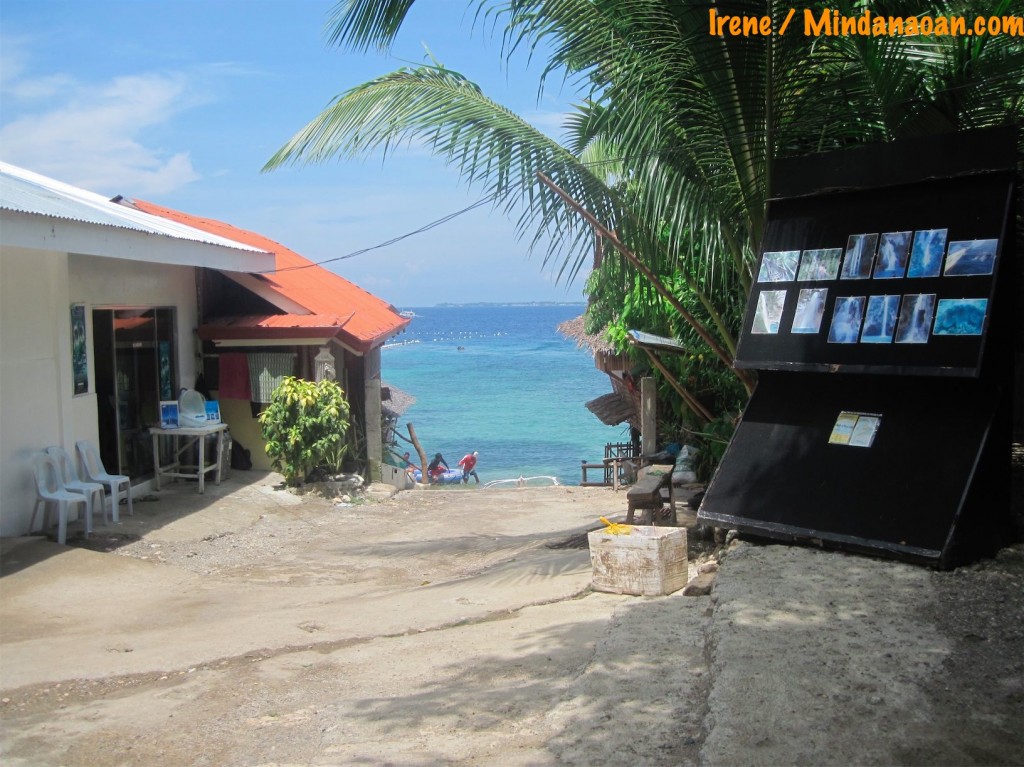 My brother was so excited to board!
Our small group were treated like royalty – we were given the "Butanding" boat – the largest one in their fleet. Don't be fooled by the "sosyal" look of the banca, by the way! The rates are very, very reasonable and you can even avail of up to 15 percent discount when you book early!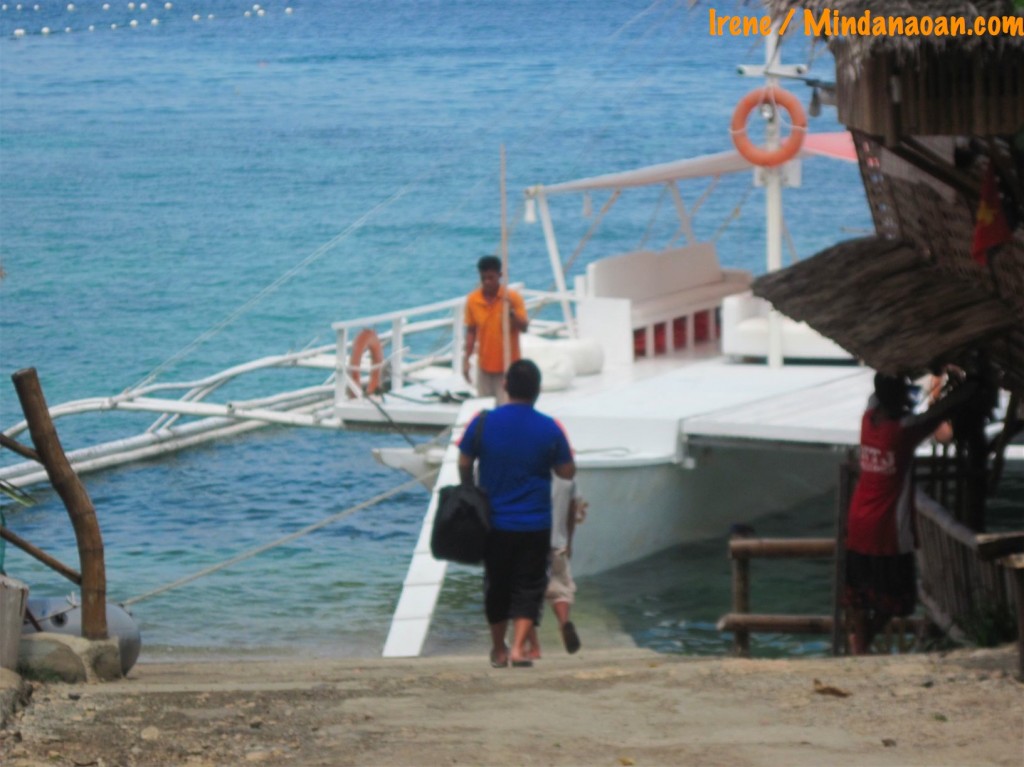 All aboard (that's Movenpick Cebu right there, by the way)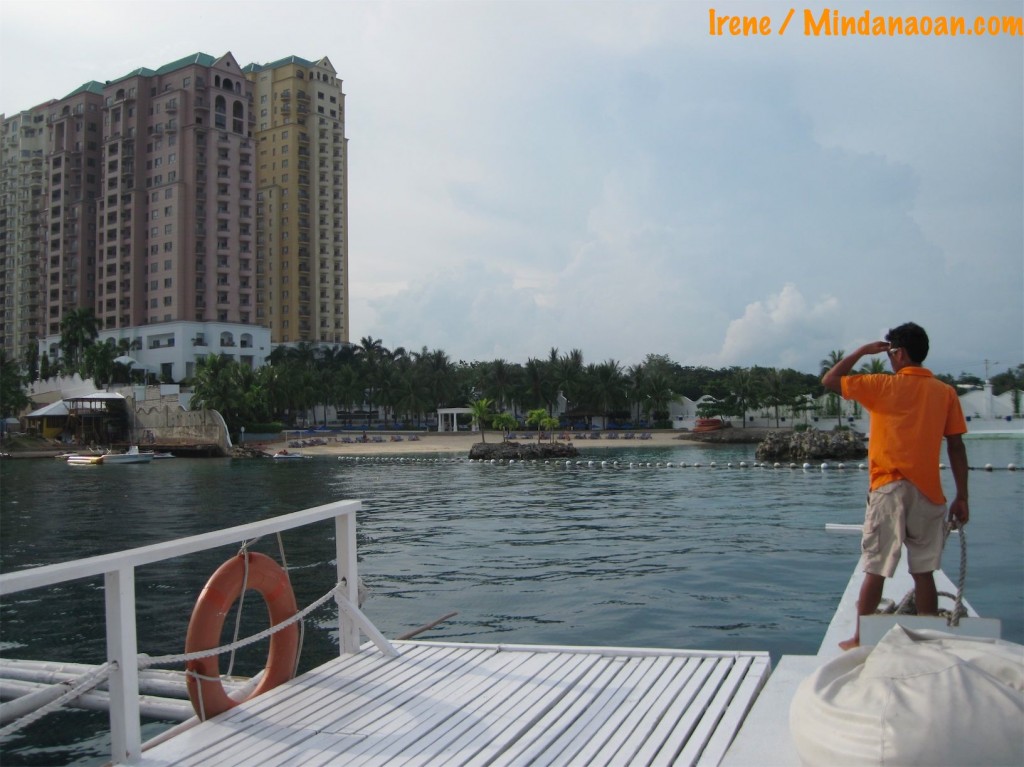 Hello sea! It was a fine day to go island hopping – the sun was out and the sea looked calm.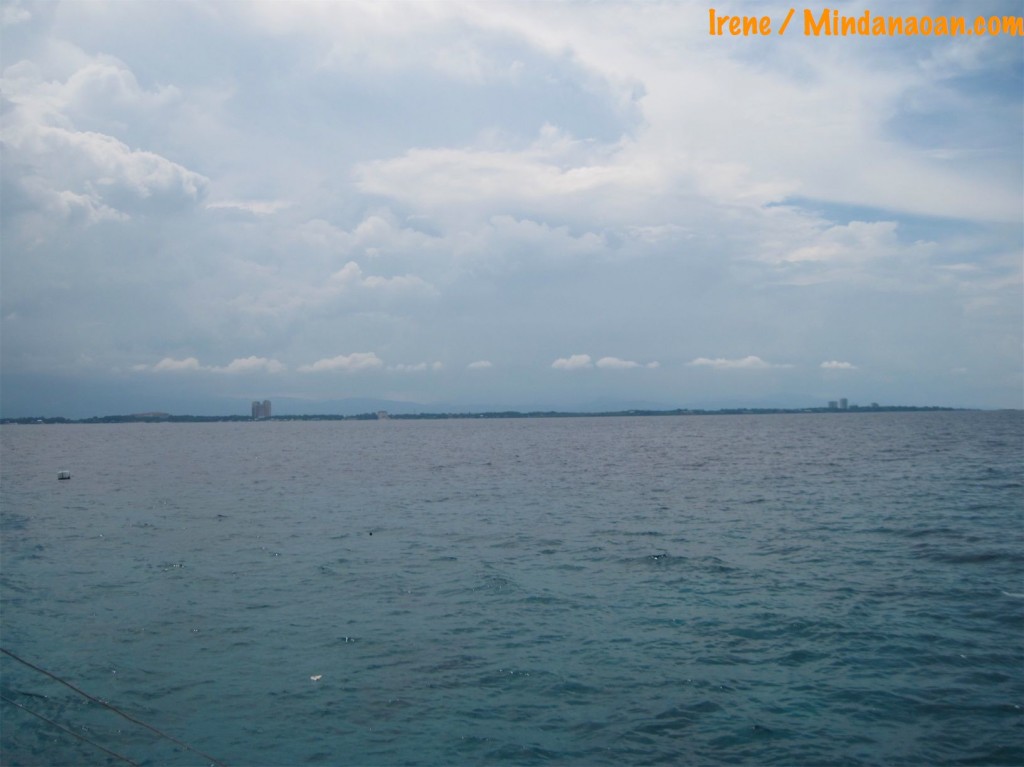 See how spacious our banca was? It was so roomy you can practically do a few cartwheels!
Don't you just love the signature bean bags?
You can really relax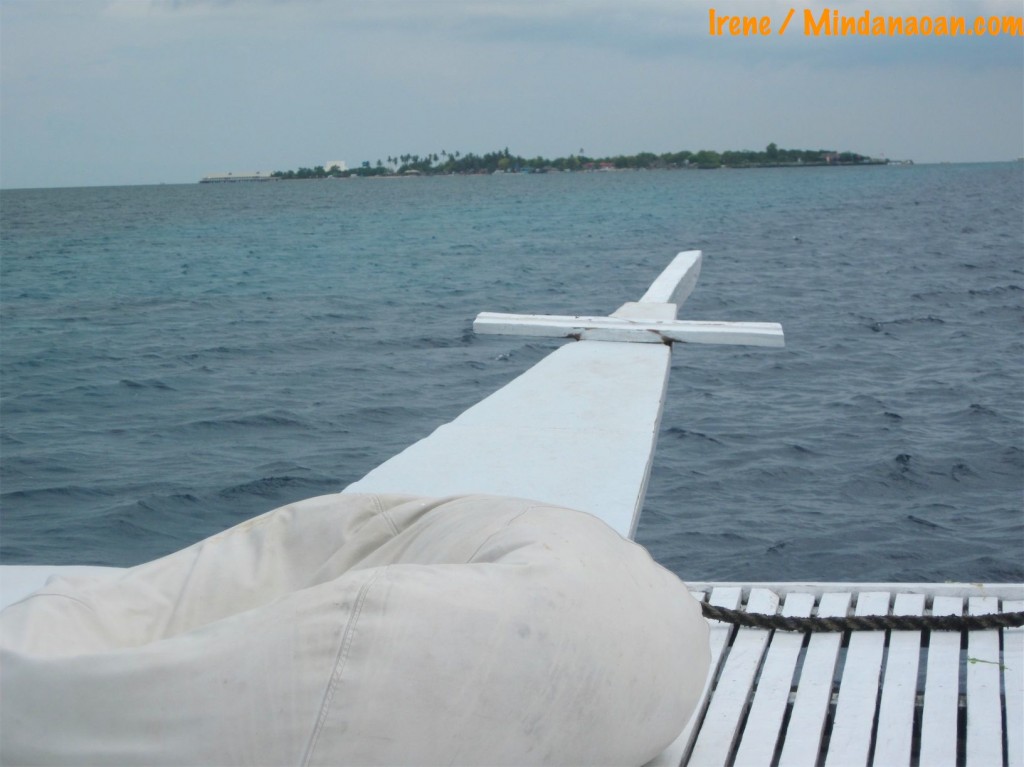 Define too relaxed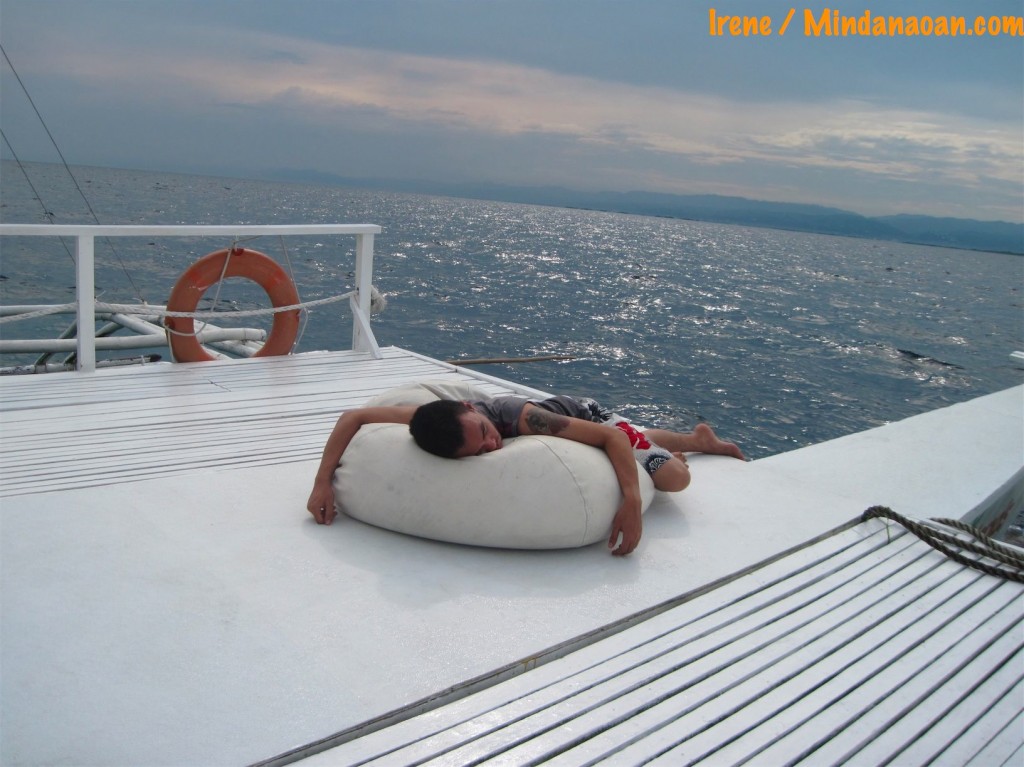 Cushioned seats and lots of life vests of various sizes
Check out this cool and clever trapdoor where only a few steps separate you from beautiful blue green water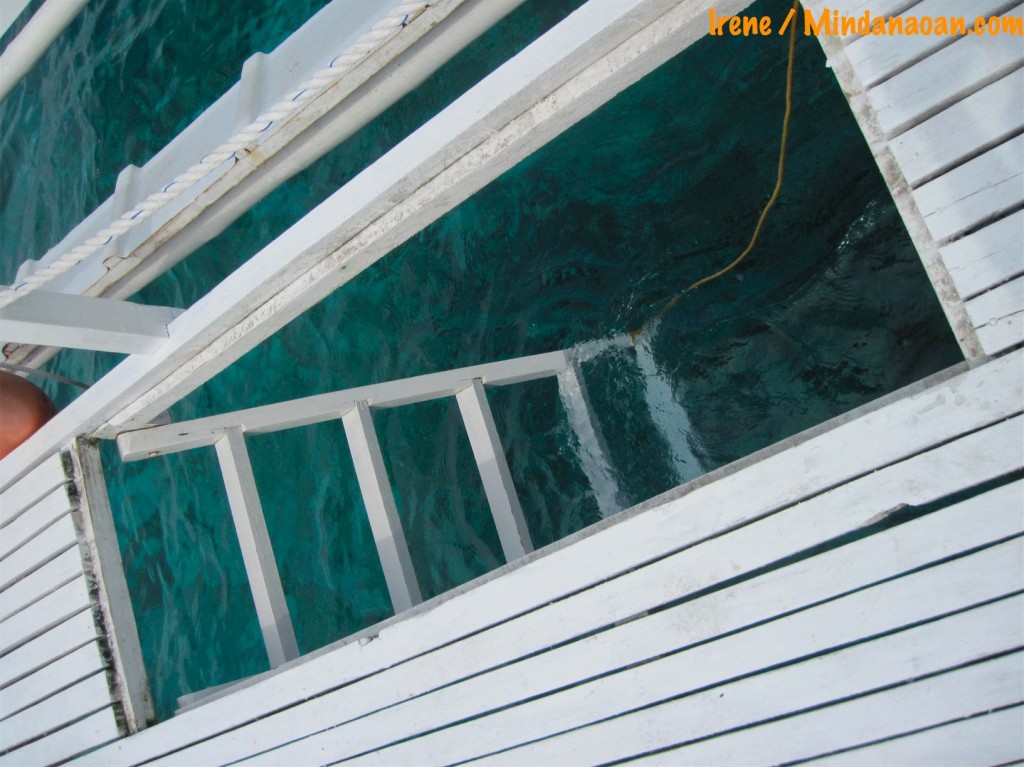 We had a blast at our 1st stop – Talima Island and Marine Sanctuary. Beautiful and clear blue green water. The marine life was spectacular – definitely an ideal destination for snorkelers and divers
If you don't have gear, by the way, you can rent from Islands Banca Cruises. You can rent equipment such as scuba gear, underwater camera, snorkel, dive masks, kayaks and fins. You may also want to try the Seawalker adventure!
Ask the friendly trip specialists over at Islands Banca Cruises for more details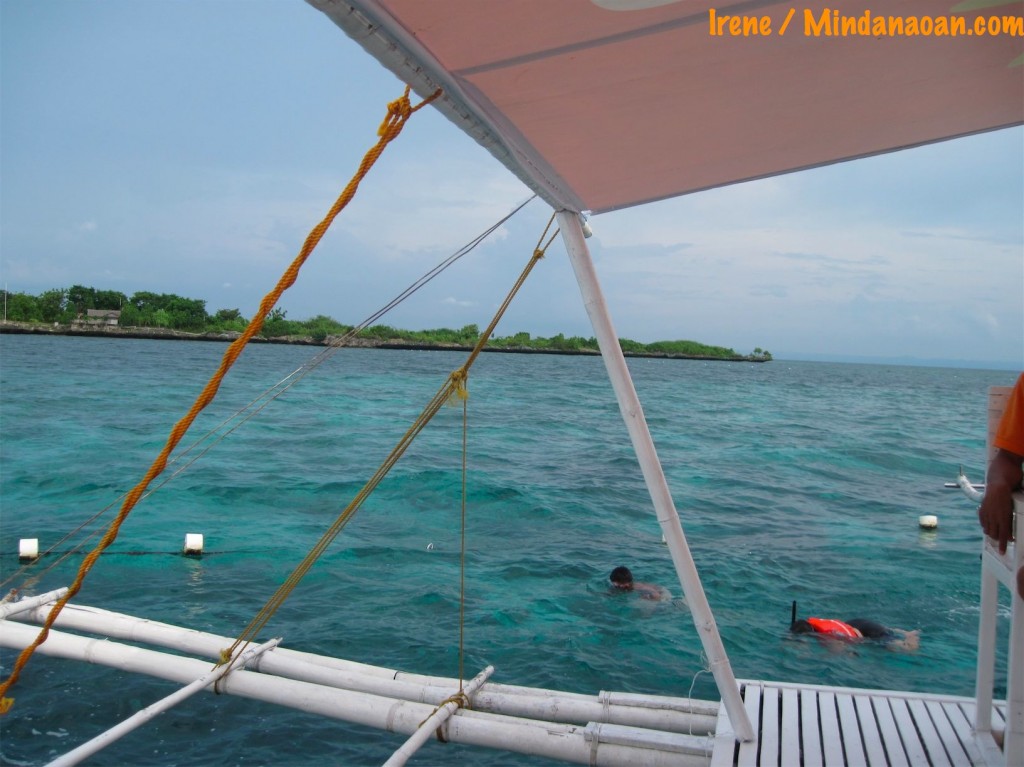 One of the crew members getting ready to help us feed the fish.
We brought some crackers so we decided to feed the fish by hand. It was such a thrill to see the fish scrambling to get their share!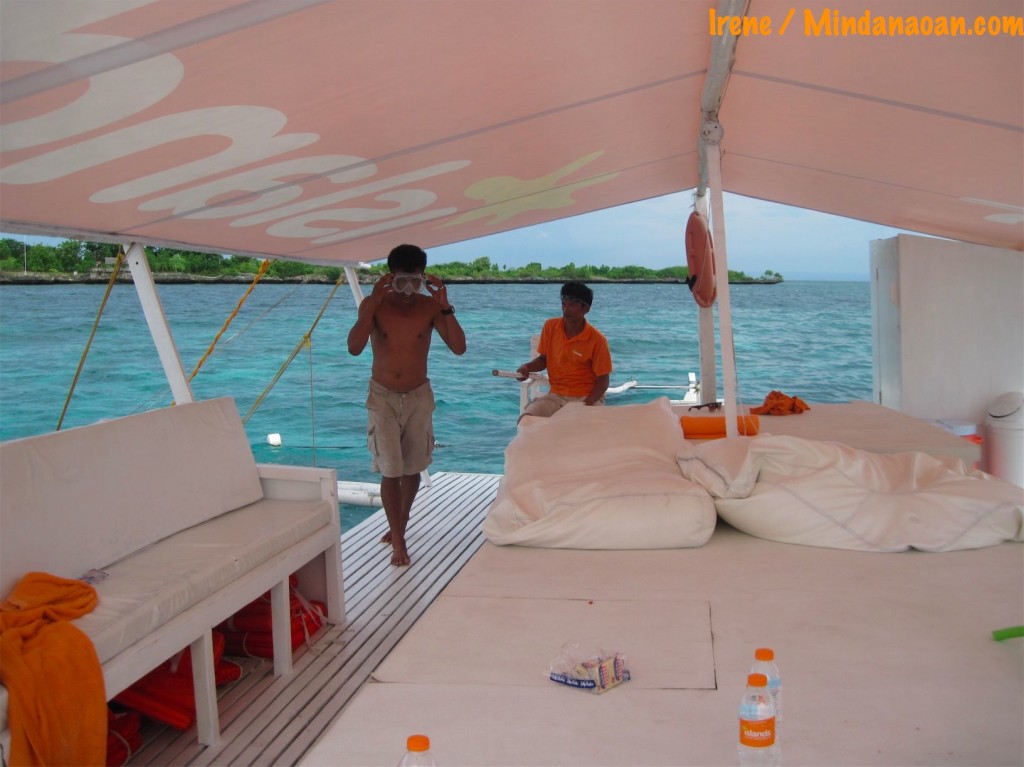 They provided us with towels and bottled water. Notice that they have a trash can and a washroom at the back of the boat. Cool, huh?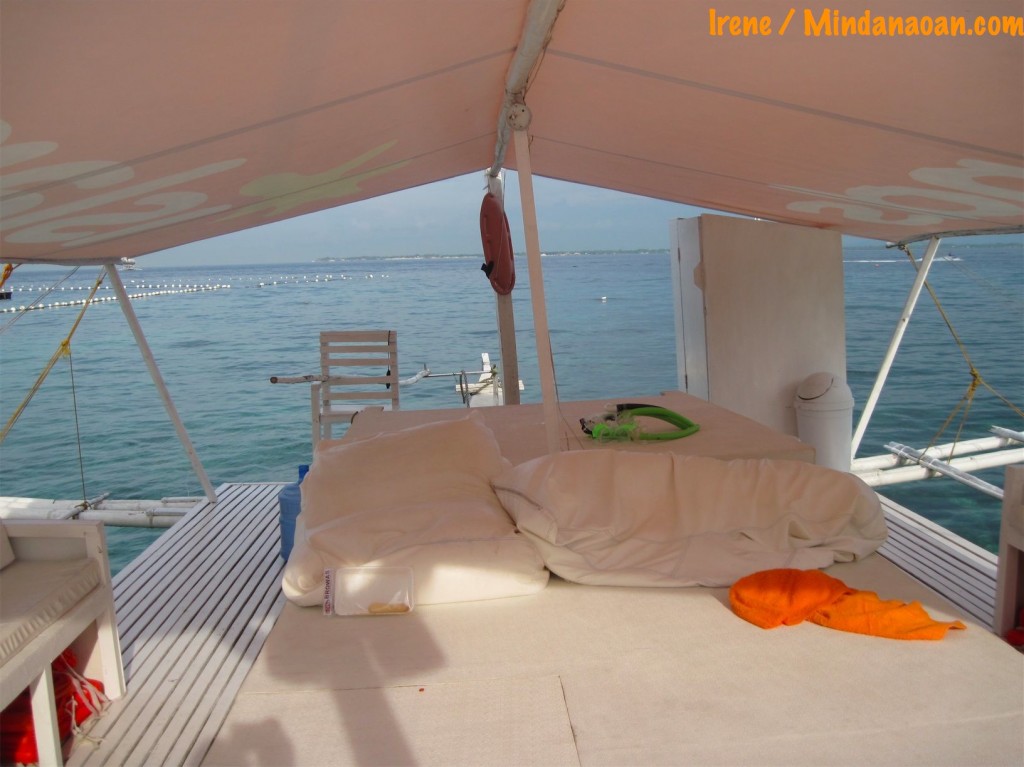 Off to our 2nd stop – the Gilutungan Marine Sanctuary. The weather became a little gloomy but thankfully, it didn't rain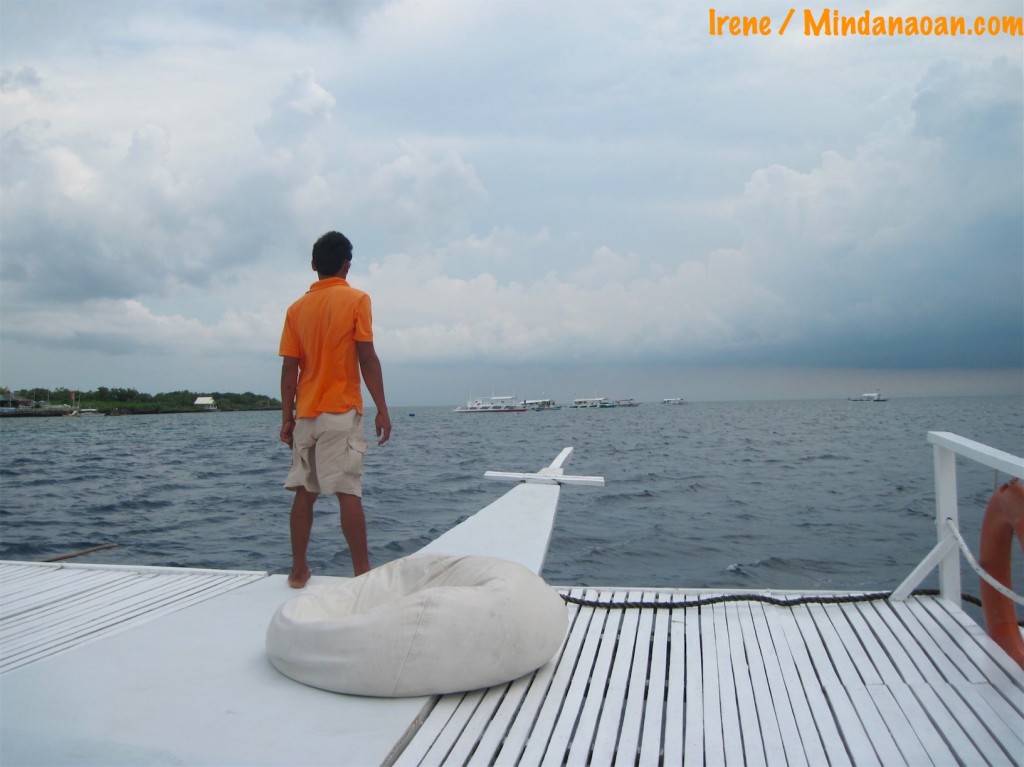 Our colorful boat! Oh, I have to tell you – whenever we came across another banca, all of the people aboard that other banca would stop and look at ours! I guess they were wondering how a huge, pretty, colorful banca could only have 4 passengers 🙂 Well, technically, 6 – if you include the 2 crew members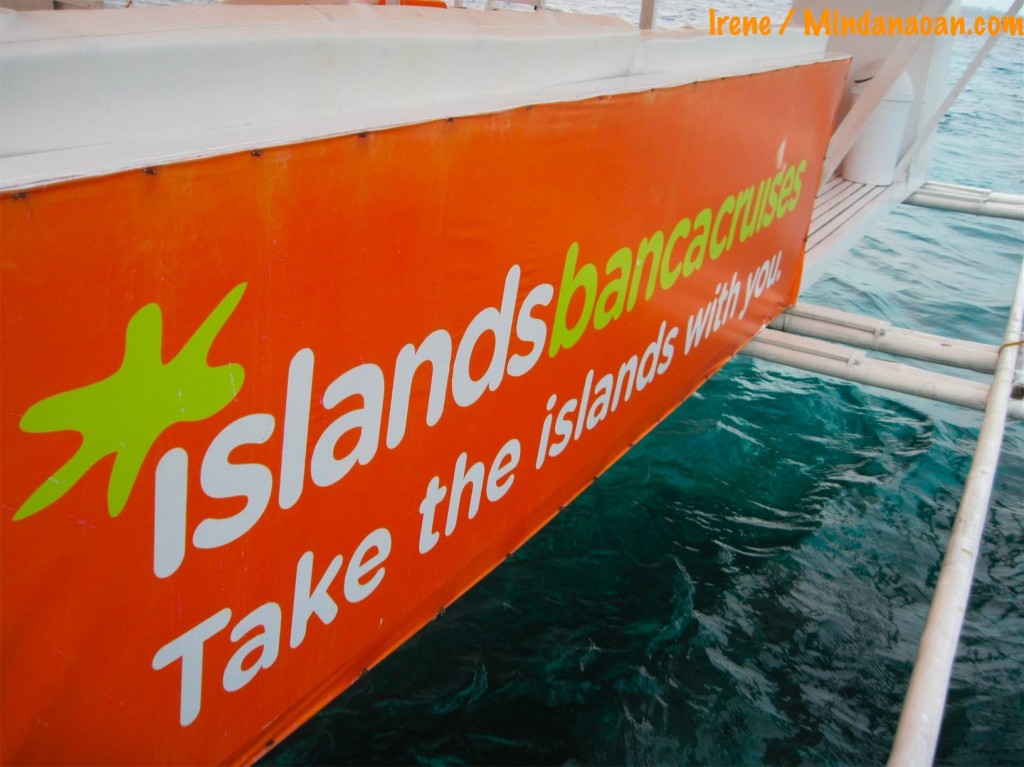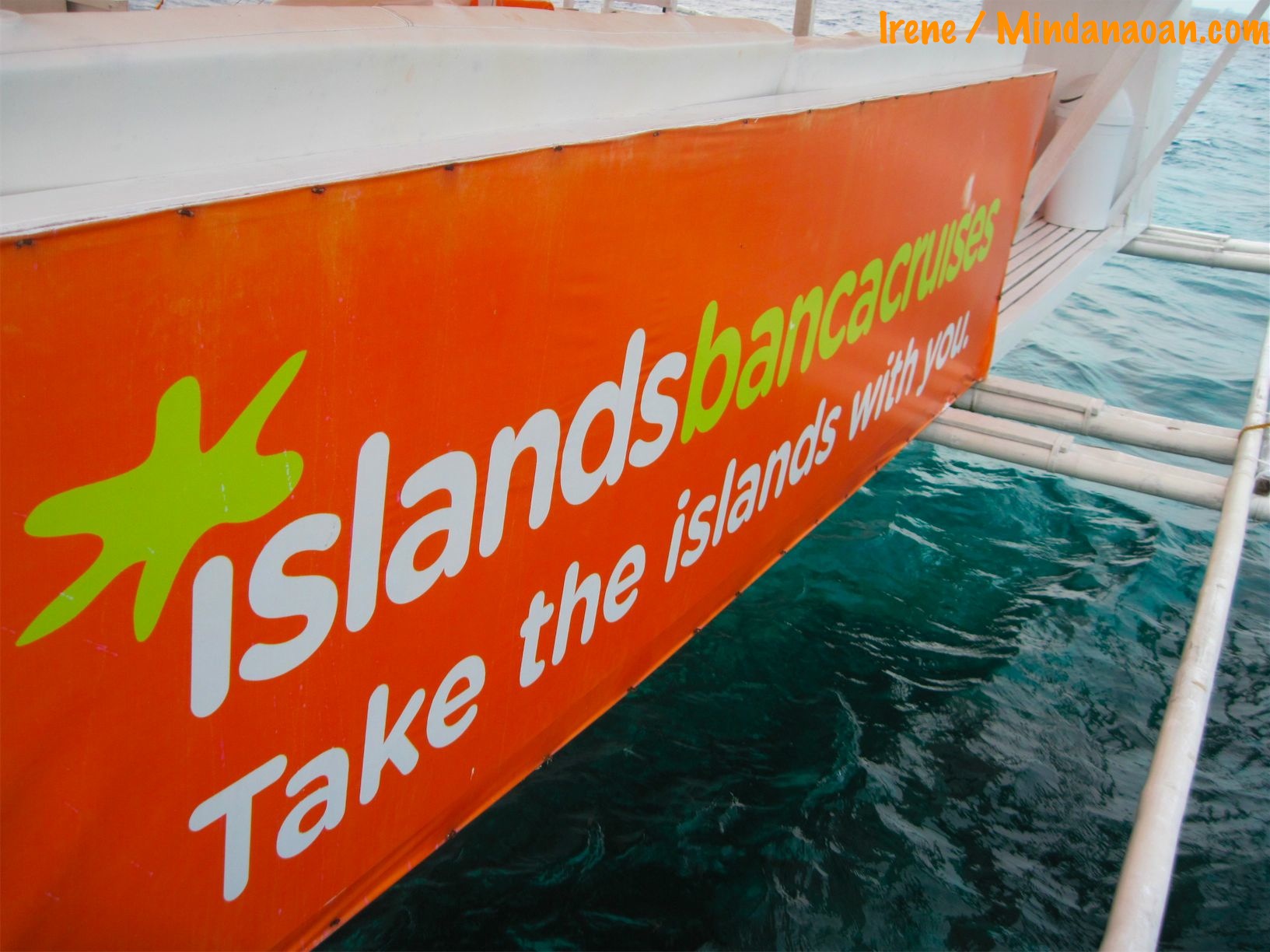 Wouldn't you agree with me when I say that Islands Banca Cruises has definitely taken the banca (and budget-friendly Cebu island hopping trips) several notches higher?
Aside from island hopping, Islands Banca Cruises Cebu also offers various tour packages such as sunset cruises or lechon or barbecue picnics (you can have these either on-board the banca or on a sandbar). They can arrange water based adventures such as snorkeling, scuba diving, sea kayaking, dolphin watching and fish feeding. They can also arrange corporate tours and other customized banca trips.
Speaking of sunset cruises, you might also want to try the Islands Banca Cruises Sunset Chillout Cruise. I heard that for only Php 295 per person, you can journey across the Mactan Channel. During this one and a half hour cruise, you can see the Liloan Lighthouse, Marcelo Fernan Bridge, Mactan-Mandaue Bridge and the Cebu City skyline. Definitely a fun way to see Cebu! The Sunset Chillout Cruise departs every 5:30 PM.
So are you ready for your very own Cebu Island Banca Cruise? They have packages for Talima, Pandanon and Nalusuan, Gilutungan and Pandanon and Nalusuan and Gilutungan but like I previously mentioned, they can arrange customized trips for you.
For more information, free quotations or inquiries, please visit www.islandsbanca.com You may also contact them at (63 32) 516 1903, (63 917) 630 0736, (63 932 844 0990) or send an email to [email protected]