Earlier, I shared with you the list of the official candidates of Miss Kagay-an 2012. Did your bet make it to the list?
Now, these lovely ladies will be presented to the media for the 2012 Ms. Kagay-12 press presentation event on July 23, 2012.
A press release from the City Tourism Board of Cagayan de Oro says:
The CDO City Tourism Board and N Hotel inks an agreement for the highly anticipated Press Presentation of the 12 Official candidates of Ms. Kagay-an 2012 scheduled next week. The candidates will be presented to the media as their first official public appearance. The Darling of the Press winner will be chosen from the Press Presentation. Ms. Gean Cesar, Co-Chair of Ms. Kagay-an 2012 and Chair of Ways and Means, together with CTB Finance Officer Linda Costales signs contract of agreement with N Hotel Sales Manager Ms. Amy Saniel. Ms. Kagay-an 2012 Coronation Night is scheduled on August 26, 2012.
I wonder if I can ask the ladies a question during the press presentation. If I'll be given the chance, what do you think I should ask them? Let me know in the comments section below 🙂
In the meantime, this Filipino blogger is very proud to announce that Mindanaoan.com is an official media partner of the 2012 Miss Kagay-an! My sincerest thanks to all the organizers 🙂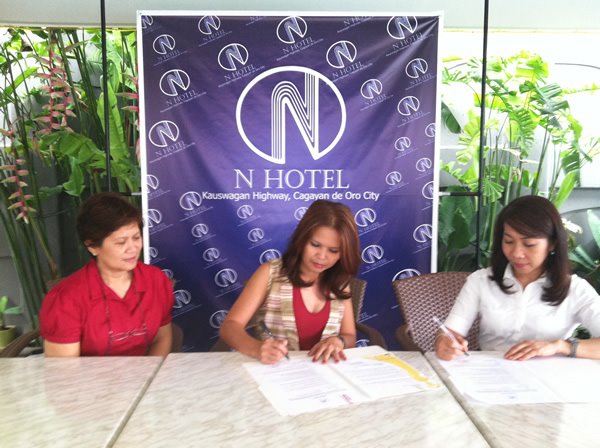 SUBSCRIBE TO MINDANAOAN (please don't forget to verify your email address!) to be kept updated with the latest Miss Kagay-an 2012 happenings.
You can also follow me on Facebook, Twitter and Pinterest 🙂