There's a new coffee shop in Cagayan de Oro City, Mindanao. Coffee Bean and Tea Leaf has opened their first CDO branch at Centrio Mall. The Centrio Ayala Mall branch of Coffee Bean and Tea Leaf CDO is on the right side of Centrio Garden, if you're taking the Capt. V. Roa entrance to the mall.
Coffee Bean and Tea Leaf has been brewing since 1963 in California. While CBTL isn't new in the Philippines, it is new in Northern Mindanao. As previously mentioned, this is the first Coffee Bean and Tea Leaf coffee shop in Northern Mindanao and a second one is in the works. The second CBTL coffee shop will be at Limketkai Center and will open early next year.
A day after they opened their Centrio Mall CDO branch, Coffee Bean and Tea Leaf folks invited Mindanaoan to try their bestselling drinks. I had a grand time "taste testing" the Moroccan Mint Tea, Ultimate Mocha Blend, Chai Tea Latte, White Chocolate Dream Latte and their holiday flavor – Red Velvet. I highly recommend the Moroccan Mint Tea if you want something light and easy on the stomach. The Ultimate Mocha Blend is rich and very tasty. The Chai Tea Latte, one of my favorites in CBTL, is recommended for people who want to like tea. You see, I understand that not everyone loves coffee and some might want to cut back on coffee. Chai Tea Latte is a good drink to try. For chocoholics, the Coffee Bean and Tea Leaf's White Chocolate Dream Latte sure is a dream. It boasts of a lovely mix of flavors which will surely entice chocoholics.
The Red Velvet (available in either hot or ice blended) drinks are a must try! These don't have caffeine so even the kids will love this. Check out my Instagram photo of the Coffee Bean and Tea Leaf Red Velvet drink 🙂
Don't forget to pair your drinks with any of CBTL's baked pastries, cookies cakes.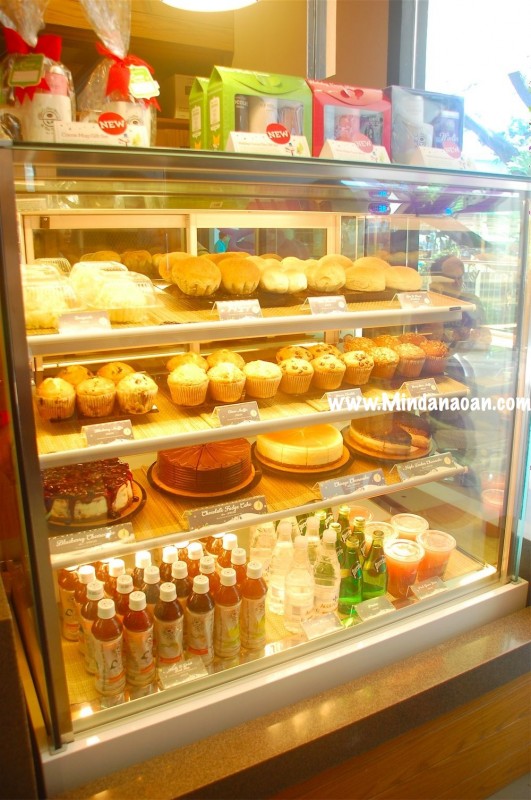 You can also purchase gift sets, tumblers, mugs, this cool CBTL coffee maker and yep, the 2013 Coffee Bean and Tea Leaf Giving Journal! Just collect 12 stamps (every stamp card comes with corresponding drink assignments) until January 6, 2013 and you will receive your very own Coffee Bean and Tea Leaf 2013 planner 🙂
Thank you Coffee Bean and Tea Leaf Centrio Mall for inviting me!