It was in late 2010 when I first fell in love with Etude House products. I kept on hearing all about their BB Creams (blemish balm creams) so when I finally found an Etude House shop in Manila, I grabbed the chance to finally buy the Etude House BB Magic Cream.
Since then, there was no turning back.
Today, my makeup stash always includes a tube of Etude House BB Magic Cream – I even bring it along during my travels. It gives you flawless complexion and that "no makeup look." It's also very easy to put on and you only need a pea size amount for every use. The Etude House BB Cream is definitely a good investment.
Fortunately for me and fellow Etude House fans, we don't need to travel far just to replenish our stash of Etude House goodies.
Etude House Philippines will now have 2 branches in Cagayan de Oro City – one at Centrio Mall and another one in SM City CDO! Plus I also have some news for you all at the end of this blog entry 🙂
Check out this poster below. Yes, that's Sandara Park 🙂 Dara of the popular Korean group 2NE1 is the face of Etude House.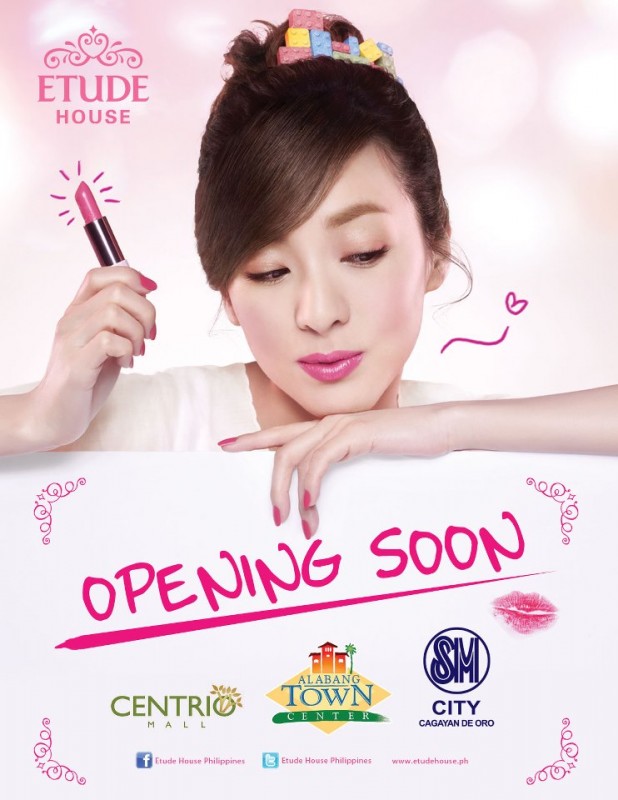 Etude House will open their Centrio Ayala Mall branch on November 9, 2012.
At Etude House Centrio and Etude House SM CDO, you can find these and more!
Etude House lip glosses
Etude House Carrot facial mask – tried this before. It leaves your skin refreshed 🙂
Etude House Look At My Lips lipsticks – I'm loving Spotlight Beige, Glamorous Brick and Marshmallow Pink 🙂 You?
This one I really want to try – Etude House Wonder Pore
So who's excited for the arrival of Etude House in Cagayan de Oro City? 🙂 Because Mindanaoan sure is 🙂
And here's a little something I want to share — this Mindanao lifestyle blogger has been invited to visit Etude House Centrio Mall! 😀 Can't wait to share with you all the goodies I'll find at their store 🙂 I will also be bringing along other blogger friends 🙂
So please follow Mindanaoan on Facebook for photos and follow Mindanaoan on Twitter for updates 🙂 You can also follow the Mindanaoan Pinterest account.
Check out Etude House Philippines on Facebook
* photos here are courtesy of Etude House Philippines
* click here to invite Mindanaoan