Authentic Italian frozen yogurt is finally available in Cagayan de Oro. White Hat Centrio CDO is finally open! The White Hat, known for their delicious and authentic Italian Frozen Yogurt topped with healthy premium toppings, recently opened their Centrio Mall branch in Cagayan de Oro City. And this Mindanaoan blogger was invited to the opening and got to try their yummy treats.
The White Hat Yogurt Centrio CDO branch is located at the Centrio Garden area, level 1, near the activity center.
The White Hat Yogurt serves 98 percent fat-free yogurt – yogurt that's not only delicious but healthy, too. It's a special combination of low-fat milk as well as live, active yogurt cultures. How's that for real yogurt goodness?
Now if you haven't tried yogurt before or if you're a bit hesitant to try, why not check out some of the benefits of eating yogurt:
Here are yogurt's 6 health benefits: (courtesy of The White Hat website)
Better Digestion. Real yogurt contains LIVE, ACTIVE CULTURES (lactobacillus bulgaricus and streptococcus thermophilus) sometimes known as "PROBIOTICS". These help people with gastrointestinal conditions such as constipation, diarrhea, H. Pylori infection, colon cancer,, and those who are lactose intolerant.
Stronger Bones. Real yogurt contains CALCIUM, which is essential for building strong bones and helps to prevent Osteoporosis.
Reduces the risk of High Blood Pressure. A study made with 5,000 students in Spain showed that eating 2-3 servings of low-fat dairy a day led to lower blood pressure.
Boosts the Immune System. Real yogurt with live, active cultures boosts the immune system by increasing white blood cells which fight infection.
Bigger Muscles. Real yogurt contains PROTEIN which are needed in muscle building.
Weight Loss. Eating low-fat yogurt in place of other high-fat desserts helps in losing weight without the feeling of being deprived.
Apart from yoghurt, you can also find waffles and smoothies at The White Hat. And don't look now…but they will also soon serve this one-of-a-kind YOGURT CAKE! Yep, you read that right. Pretty unique, eh?
Check out what my blogger-friends and I enjoyed that day: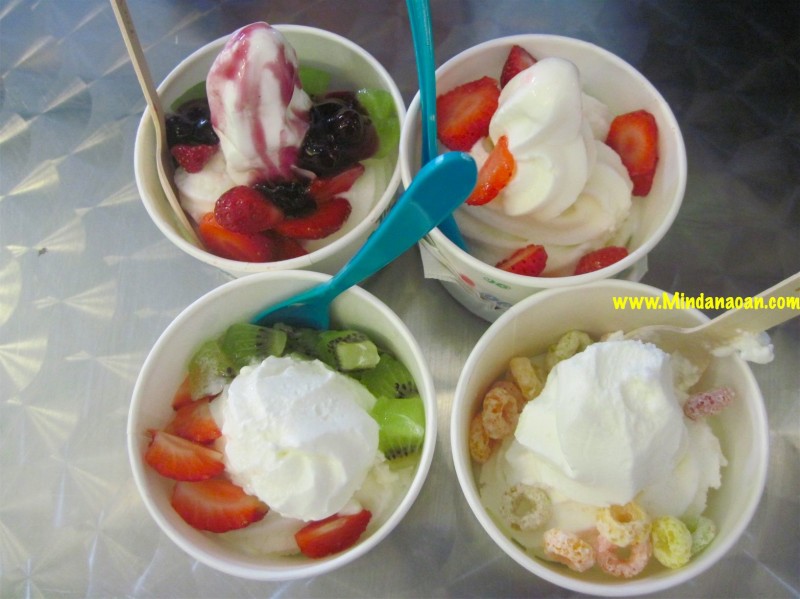 Design your own yogurt treat at The White Hat Yogurt CDO today.
Thank you The White Hat Yogurt for the invite! 🙂