Hard to believe but yes, it's been a year since that deadly Typhoon Sendong (international name: Washi). Typhoon Sendong claimed more than 1,000 lives and to this date, more than 500 people remain missing. Yesterday, December 17, 2012, a group came up with a Sendong Memorial Wall in Cagayan de Oro City, one of the two major cities that got hit by Typhoon Sendong. The Sendong Memorial Wall in CDO was made of Romblon marble and had the names of those who died and those who remain missing.
Today, I found out that a Sendong Memorial in Iligan City was also unveiled last December 17, 2012. A creation by artist Julie Lluch, this masterfully crafted bronze sculpture depicts a little girl riding a log. The girl was one of the survivors of Typhoon Sendong. She apparently rode the log from Barangay Digkilaan and was safely recovered in the Municipality of Bacolod, Lanao del Norte. And get this – if you may notice, she 'shared' the log with a snake! You may notice the snake on the left side of the bronze statue.
This Sendong Memorial in Iligan City can be found at the Sendong Memorial Park at Gerona, Barangay Hinaplanon, Iligan City.
Thank you very much to Pat Dejano Noel for sharing this photo and for the information about the sculpture. Mr. Noel works at the Iligan City Tourism Office.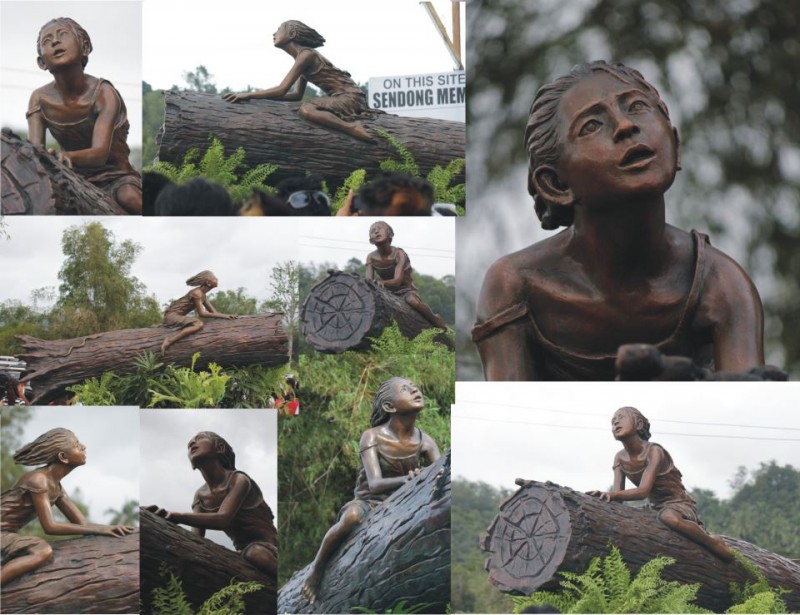 * photo courtesy of Pat Dejano Noel