Below is the official statement of Mindanaoan Senator TG Guingona on the recent ambush of his mother, Gingoog City Mayor Ruthie de Lara Guingona. This statement was sent to Mindanaoan:
On Saturday night, my mother, Ruthie de Lara-Guingona, who is in her 70s and concluding a third term in office this year as mayor of Gingoog City, Misamis Oriental, was ambushed on her way home from a fiesta in the city's outskirts.
She was wounded but her driver and security escort did not make it. Brothers Nestor and Bartolome Velasco were killed due to a hail of bullets on board the Hi-Lux pick-up she was riding. The fatalities were loyal employees of long standing in our family's home in Mindanao.
My heart grieves for them and their families.
Photo from: http://www.philstar.com/probinsiya/2013/04/22/933324/mayor-guingona-sugatan-sa-ambush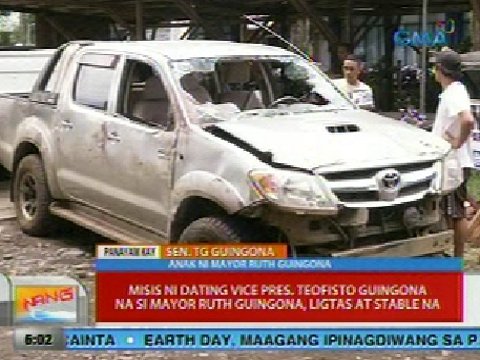 Photo from: http://www.gmanetwork.com/news/video/159154/unangbalita/misis-ni-dating-vp-guingona-na-si-mayor-ruth-guingona-ligtas-at-stable-na
Wounded and trapped inside the vehicle that fell on its side due to grenade explosions, my mother was rescued at dawn today. I am relieved that she is now safe and in stable condition.
The New People's Army has fired upon an elderly and innocent woman who is already bowing out of politics.
We strongly condemn these acts of violence conducted by the New People's Army.
They alleged that they fired upon my mother because my mother breached a policy of bringing arms in their checkpoint. The persons that were carrying the arms are members of Philippine National Police.
We would like to remind everyone in this country that there is only one government of the Republic of the Philippines. There is only one President who is in-charge in executing the laws of this land. That is President Noynoy Aquino. He is the Commander in Chief of the Armed Forces of the Philippines. And most importantly, he is the leader of this nation. No one has the right to usurp the laws of this country!