Yes, you read that right. There's a Sunken Cemetery at Camiguin Island and although many people might find it a little creepy, this Camiguin tourist spot is actually a popular diving and snorkeling spot.
Located at Barangay Bonbon, Municipality of Catarman, Camiguin Island, the Sunken Cemetery came about after Mt. Vulcan's series of eruptions from 1871 to 1875. As a result, some areas in Bonbon subsided including the town's cemetery. The cemetery sank below sea level. In 1982, the local government of Camiguin erected a cross on the site.
For those of you wondering whether or not there are still dead bodies at the Sunken Cemetery in Camiguin Island, the human remains have already been exhumed and buried in another location. Besides, it's been more than 100 years – I guess you can spot more marine life there than you-know-what 🙂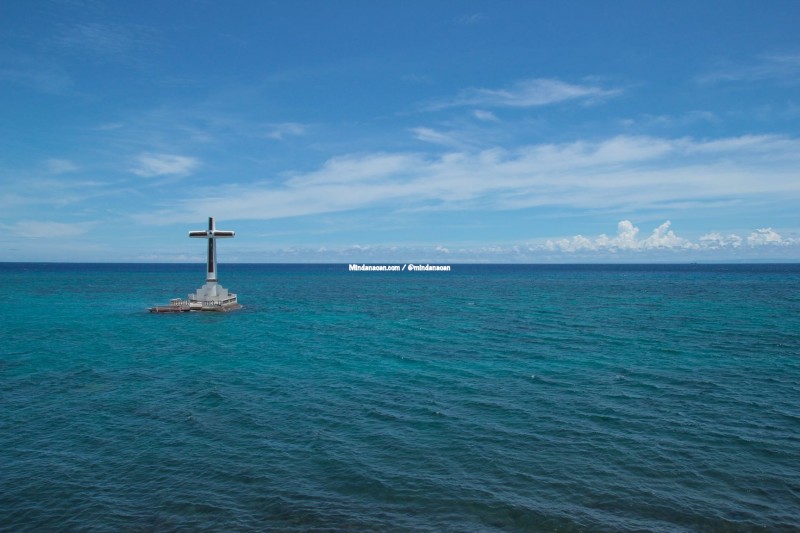 From the shore, you can rent a boat for Php 20.00 so you can reach the cross platform. If you wish to snorkel, there's a snorkeling fee of Php 50.00
Lots of locals will offer their services to you (including snapping your photos and suggesting "popular tourist poses" e.g. raising your hand as if you're holding the cross on the palm of your hand)
How To Get To The Sunken Cemetery, Camiguin Island
If you plan to rent a government-accredited multicab for the day, the Sunken Cemetery is usually a part of the itinerary. Please read this Camiguin Travel Guide that I prepared 🙂
If you're staying in Mambajao (the capital town of Camiguin) and you want to go to Catarman, catch one of the jeepneys that ply the Mambajao-Catarman route. Their terminal is near the Rotunda (a few meters away from the public market).
Here are other Camiguin-related articles you might like:
The Paradise That Is White Island
Villa Paraiso Resort and Apartelle Camiguin Island
Ardent Hibok-Hibok Spring Resort Camiguin
Mantigue Island – A Must-Visit!
The Icy Cold Water At Katibawasan Falls Camiguin Island