When I was invited to watch a concert featuring a 15 year old violin protege, I knew somehow I was in for a treat. After all, for someone so young, Bradley Bascon has already achieved so much – far more than most lads his age – including winning the Violin Master Class panel finals organized by the Music Teachers Association of California, performing with an orchestra as a featured soloist in Spain and Portugal, performing in the London Olympics in 2012 and participating in festivals in Germany, Austria and Italy. Still, I felt that I had to hold back my cheers and praises until the litmus test – that one-night only concert held last July 31, 2014 at the Rodelsa Hall, Liceo de Cagayan University.
Along with collaborating artist Rudolf Golez, who himself is an internationally acclaimed Filipino piano virtuoso, Bradley Bascon wowed the audience when he oh-so-effortlessly played the timeless, classical works of Wolfgang Amadeus Mozart, Fritz Kreisler, Vittorio Monti and Charles Saint-Saens.
* All photos here owned by Mindanaoan.com 
Bradley's training and experience were apparent when he played. He hit the high violin harmonics with careful ease. He was precise yet graceful. He felt the music and it translated. He was a delight to watch.
Of course, with THE Rudolf Golez assisting him that night, you could only expect nothing but magic.
Among the pieces played that night were Sonata in E minor, K. 304, Tambourin Chinois, Schoen Rosmarin, Praeludium and Allegro and Concerto No. 2 in D Minor.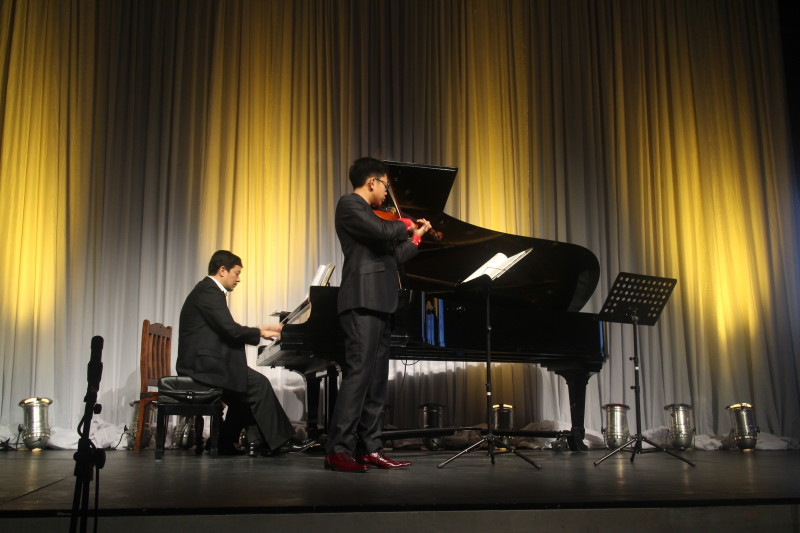 * All photos here owned by Mindanaoan.com 
That musical night sure was ear candy. Bradley Bascon did a fabulous job and I can't cheer and praise him enough. He is truly gifted!
Congratulations, Bradley! Continue to hone your craft – the world eagerly awaits.
Mindanaoan.com would like to thank Miss Stella for the tickets. Thank you very much!
Disclaimer: I am in no way a professional critic and that my evaluation of 15 year old violinist Bradley Bascon's recent concert at the Rodelsa Hall, Liceo de Cagayan University is based on an untrained ear.