Chiz Escudero. I first saw him in Congress. He was the fast rising young representative of Sorsogon then. All eyes were on him. Him and his impossibly forever kunot polo barong. Kunot because he's here, there, everywhere. I remember whenever I observe at the plenary hall, he often stands up, asks questions from the floor, consults other legislators. In my mind, ang kulit din ng kongresistang ito. He wasn't like many congressmen who'd just sit and wait for their attendance to be called.
Siyempre, crush na crush ko siya noon. Ten Outstanding Young Men awardee, World Economic Forum Young Global Leader, Rotary Golden Wheel Awardee for Political Governance and Legislation and the list goes on and on. Saan ka pa? Young, very smart, articulate, took and passed the bar on the first try and cute! (I know my friends over at Team Chiz are all cringing but pagbigyan na! :D) Back then, I held a job that required me to liaise with legislators and assist them with media-related stuff. I only got to assist him once or twice. Easily forgettable instances.
So imagine my surprise when, a few years later, during a press conference in Bukidnon, he recognized me even before I was supposed to narrate my practised introduction speech. Ganun siya. He has very sharp memory. Which is good, of course, but may prove to be a challenge especially for the people who work around him. You see, because sharp ang memory, you have to be on your toes. Dapat alam mo ang sinasabi mo.
At speaking of on your toes, don't be surprised if Senator Chiz only has 1 or 2 staff members in tow sa mga sorties. Yung tipong multitasking superhero levels dapat ang staff. Walang tamad, lahat maalam. Everyone should know what they need to do at any given time because, like he always says, we're here to work. Dapat may initiative din at "cowboy/cowgirl." Make do!
Just like how he prepared his speech for his proclamation rally last February. He had problems with his laptop. Eh gusto niyang siya mismo ang magsusulat ng speech niya. So ayun, he looked for a computer. Kebs na kung may flower pen doon sa tabi ng monitor (a female staff member used that workspace). Go!
Senator Chiz din is also the kind who doesn't want to toot his own horn. I will never, ever forget that time when Typhoon Sendong hit, leaving thousands dead, hungry, homeless. I led relief and donation drives then. He sent over tens of sacks of rice that my family and volunteers can repack and distribute plus other donations – but along with those came a very strict instruction: To NEVER mention his name as donor. Siyempre hindi ko sinunod haha. Eh sa proud ako to know someone like him who doesn't want the recognition, di ba?
He also doesn't like VIP treatment. If you see videos or photos claiming that he was accorded "rockstar reception," it's because ang mga tao talaga ang lumalapit, sumisigaw, kinikilig, humahanga. Spontaneously. Kumbaga, hindi mahirap ibenta. You should see the thousands of photos I have taken over the years.
Which reminds me of a friend's story. He saw Senator Chiz at the airport. Delayed flight. "He was just there, leaning against a wall, waiting. Just like the rest of us."
Senator Chiz doesn't like it if sobrang naha-hassle yung ibang tao para lang ma-accommodate siya. For instance, if he is set to visit a city, no need na for the local officials to meet him. No need for security guards, convoys etc. He is there to work. Ikaw na lang yung mase-stress haha.
Parang during phone patch radio interviews lang. Halimbawa, I'll be requested to fix and monitor a 6AM interview for him. 5:45AM pa lang, he's already on the line. Taranta yung traffic engineer ng radio station. Magte-text yung anchor. Ano ba daw gagawin. I-e-entertain ba for the next 15 minutes or ipapatawag na lang uli? I'd reply, "Ok ra na siya. Sige lang." After the interview, I'd receive messages from the anchor saying na he was nice, had a couple of questions and was just "chill." Why, yes he is.
In fact, Senator Chiz is so chill that he'd ask me things that I feel he already knows the answers to. Or he has all the means to find out. For instance, he'd ask me what the political plans of a certain person is. He'd ask my opinions about a certain measure. Or he'd just sit and make chika. He has a way of making you feel that your opinion counts and that he is there to listen to you. That he has the time just for you. I have always appreciated that about him.
I will be honest – Senator Chiz can be too nice. To a fault. He always says, "Hindi ako palaaway pero palaban ako." This, when you read so many posts downplaying his capabilities, throwing baseless accusations and just plain bullying. Senator Chiz really stood his ground and stayed away from mudslinging and personal attacks. That speaks so much of his character. Ibang klaseng integrity. Ibang klaseng dignidad.
A lot of people have been asking why he didn't criticize his opponent Bongbong Marcos during the campaign. Simple. If you notice, his campaign has been using the #GawaHindiNgawa hashtag. He may not have bashed Marcos but Senator Chiz authored RA 10368 (reparation and recognition of victims of human rights violations during the Marcos regime), RA 10353 (defining and penalizing enforced or involuntary disappearance) and RA 9745 (penalizing torture and other cruel, inhuman and degrading treatment of punishment). Indeed, gawa hindi salita.
His track record speaks for itself.
Among those that he has passed are the exemption of minimum wage earners from the income tax; laws creating over 270 courts nationwide; an act decriminalizing vagrancy; free legal assistance act; anti photo and video voyeurism act.
However, being a Mindanaoan, the most important proposal that I heard from him during this campaign was the plan to allocate 30% of the national budget for Mindanao. We all know how Mindanao needs and deserves that.
It's time Mindanao receives attention.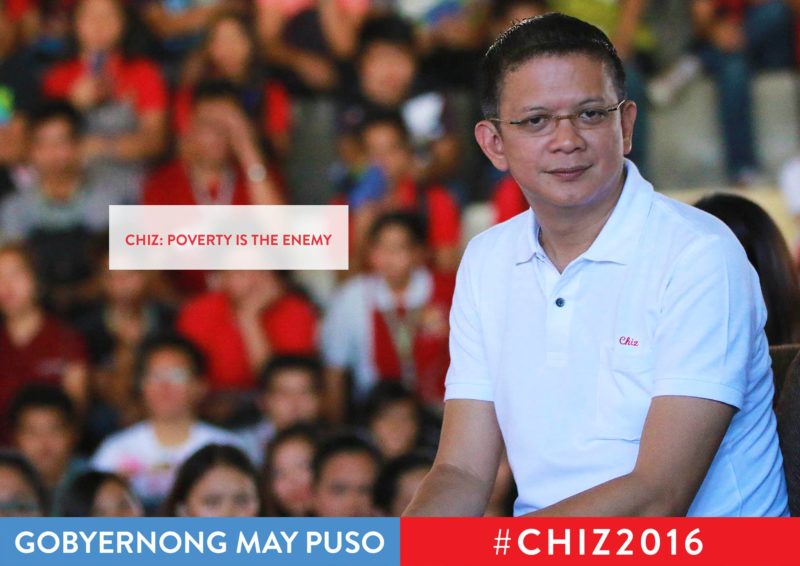 Just in case you're wondering whatever happened to my crush — well, as I got to know him better, that crush started to fade. It has now evolved into sheer admiration for a decent, hardworking, smart, amazing man who has the sincere desire and the heart to serve.
I will proudly vote for Chiz Escudero for Vice President. I hope you will, too.
Just in case you need more reasons to vote for him, please feel free to read respected veteran journalist Inday Varona's article as to why she chooses Senator Chiz over Leni.
Daghang salamat and please feel free to share this 🙂
#ChooseChiz
#Chiz2016
#CHIZVP2016
#SayChiz