(This article first appeared on my regular column, "Mindanaoan Meets World," on Gold Star Daily, Mindanao's largest newspaper. My column appears every Friday). Have you visited the recently opened S&R Membership Shopping along Kauswagan Highway, Cagayan de Oro yet? If you haven't, you really must!
It's undeniably the current toast of the town and everyone's excited not only to check out the quality, imported products (sold at low, wholesale prices) but to try the famous New York Style pizzas, Blue Bunny ice cream, bavarian filled churros and the yummy clam chowder. Shopping at S&R is quite an experience, trust me.
Read related post: S&R CDO media rounds
I have to say – it still feels a bit surreal to see so many people at S&R, the giant warehouse club that I helped launch just a few days ago. I can't help but heave a sigh of relief, especially since my co-organizer and I were only given 2 weeks to prepare! Yes, you read that right. You could just imagine the excitement slash pressure involved. I was mostly involved in the PR, media and buzz side of things.
Don't get me wrong, though.
While the preparations required a lot of our time and attention, we still had fun. Brand launches always give me amazing natural high. That high also goes several notches up especially when you see the long queues of smiling shoppers, when you see kids happily carrying boxes of piping hot pizzas, when you see families sharing 6 pieces of S&R's signature crispy fried chicken and, of course, when you overhear someone say that he's so impressed with the customer service.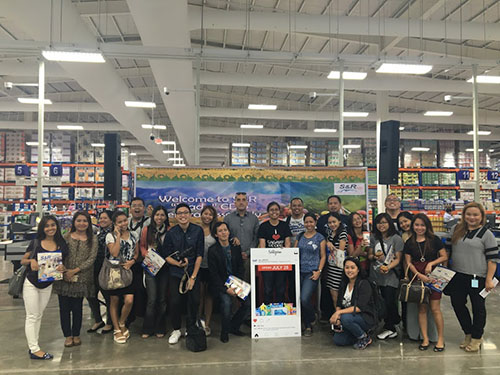 Which reminds me – I'm really grateful to all my friends in the traditional and online media communities (CDO, Bukidnon and Iligan). Thank you very much for the trust and support! Over 70 of you came! My heart beams with pride.
I would also like to extend my deepest gratitude to the S&R HQ team for the opportunity. Thank you Sir Greg, Miss Vel, Miss Ja, Miss Patty and Karl. I would also like to thank Michael for the wonderful working relationship and all the laughter. There's nothing like working with a friend.
However, my biggest thanks go to all the S&R CDO staff and crew. You guys are the real stars! Congratulations! Things wouldn't have been possible without your hard work, dedication and belief in the brand. Kudos, guys!