The first time was a huge success and hey, here's good news – S&R CDO is doing it again! If you missed out on all of the amazing products placed on sale last year, then please see to it that you don't miss this round. S&R Membership Shopping Cagayan de Oro is holding its Members' Treat from March 29 to April 2, 2017, 8 AM to 9 PM. In a nutshell – the S&R Cagayan de Oro Members' Treat is where you avail of BIG, BIG savings!
That means buy 1 take 1 deals and awesome discounts of up to 50 percent! Time to stock up! There will be a lot of your favorite health and beauty products, imported snacks, imported grocery, imported ice cream, frozen, fresh, produce, home items and bakery goods placed on sale.
Just like the last time, I will also share with all of you insider tips and let you know which specific products will go on sale. Check out the cool deals:
Products on sale: Tough Mama Electric Kettle, Delichef Personal Coffee Maker, Hamilton Beach Personal Blender, Crane Humidifier, Tylr Digital Eco Smart Carousel Fan, Black & Decker Iron, and JBL Speaker Xtreme?.?
?All big-sized personal care favorites – from shampoos and conditioners, to soaps to lotions, and even mouthwash – at reduced prices or Buy 1 Take 1 deals?.
?Laundry staples Arm & Hammer Oxi Clean Liquid Detergent, Febreze Fabric Refresher Hawaiian Aloha, Ariel Powder Complete Bucket, Oxiclean Stain Remover, Tide Pods Spring Meadow, Bio Zip Powder Detergent Color, Downy Odor Prevention, and Woolite Detergent Extra Dark.
Frozen Section goodies: Nancy's Quiche Cheese Trio, Eggo Buttermilk Pancakes, Hot Pockets Meatballs & Mozzarella, The Cheesecake Factory Grand Selection, TGI Friday's Mozzarella Sticks, Blue Bunny Chocolate Vanilla Swirl, and Emborg Cream Cheese Classic
Please don't forget to follow me on Twitter!
By the way, just in case you haven't noticed, this big S&R sale will fall on payday weekend 😉 Imagine the huge savings!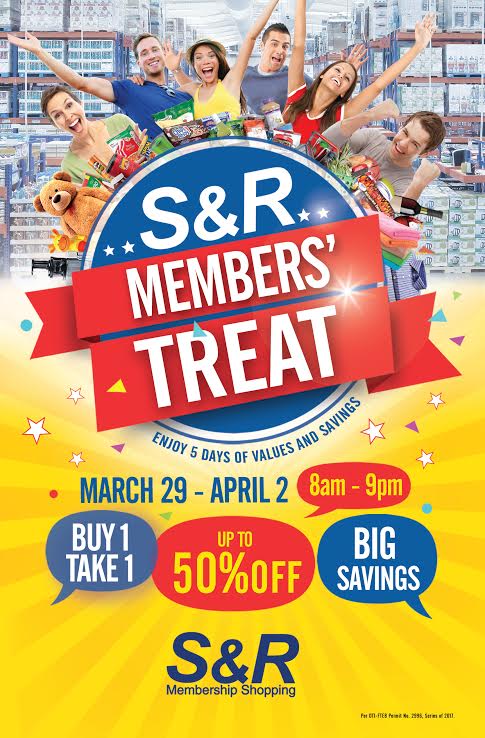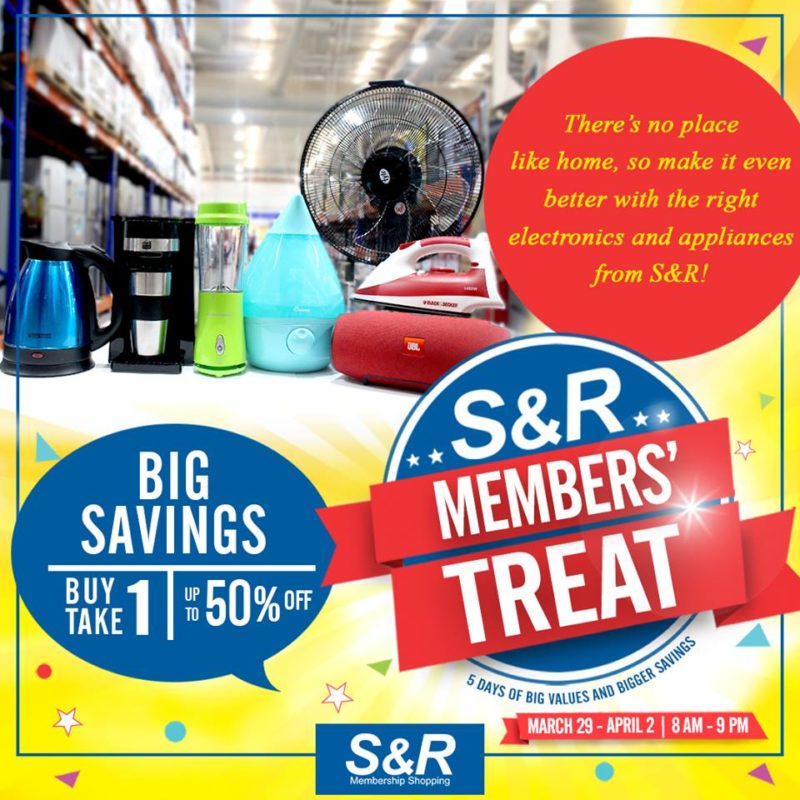 SHARE this good news with everyone!
MUCH THANKS to S&R CDO for trusting Mindanaoan.com!