So here's a true story. I personally know someone who fell for a bad online scam. And by bad I mean really bad. My friend fell for one of those Nigerian catfish love scams. All along, she thought she was involved in a long-distance relationship that was about to lead to marriage. Because she was, well, naive, she sent her lover money, love emails, gifts etc.
Long story short, not only did she lose who she thought was her future husband, she also lost a huge chunk of her savings. My friend is now over the whole fiasco (thankfully) but certainly, there is a big lesson to learn from this. And that is to always be extra wary of your online activities and to know how you can protect yourself online.
First and foremost, always be mindful of the people you accept into your online network. Learn to not easily trust online strangers especially if you don't have mutual friends or if they send you a message out of the blue. In my friend's case, a person who introduced himself as an army general sent her a message and was extra friendly. Always double-check that person's profile and newsfeed and if there are hardly any posts, do a double-take!
Secondly, check website addresses or URLs carefully. A simple typo may mean a cybersecurity attack! There are domains called "typo-squatting" ones and these misleading websites may be full of malware or may "phish" you to type important personal information or even your password.
Thirdly, don't be easily tempted to connect to FREE WiFi! Wireless networks may not provide as much security. Use extra caution with those "hotspots."
There are still more smart ways for you to protect yourself online. Learn more about cybersecurity in this digital age for FREE!
Learn about cybersecurity in this digital age as the country's premier cybersecurity event goes virtual.
DECODE 2020 will be on November 10 to 12, 2020 with the theme "ELEVATE! Transform Rapidly, Seamlessly, Securely."
Tracks about Artificial Intelligence, Machine Learning, Data Protection and Privacy, and more will be presented by renowned industry experts from around the world. DECODE 2020 is an annual conference organized by Trend Micro Inc, a global leader in cybersecurity. To know more about this event and to secure your slot for free, visit https://decodeph.com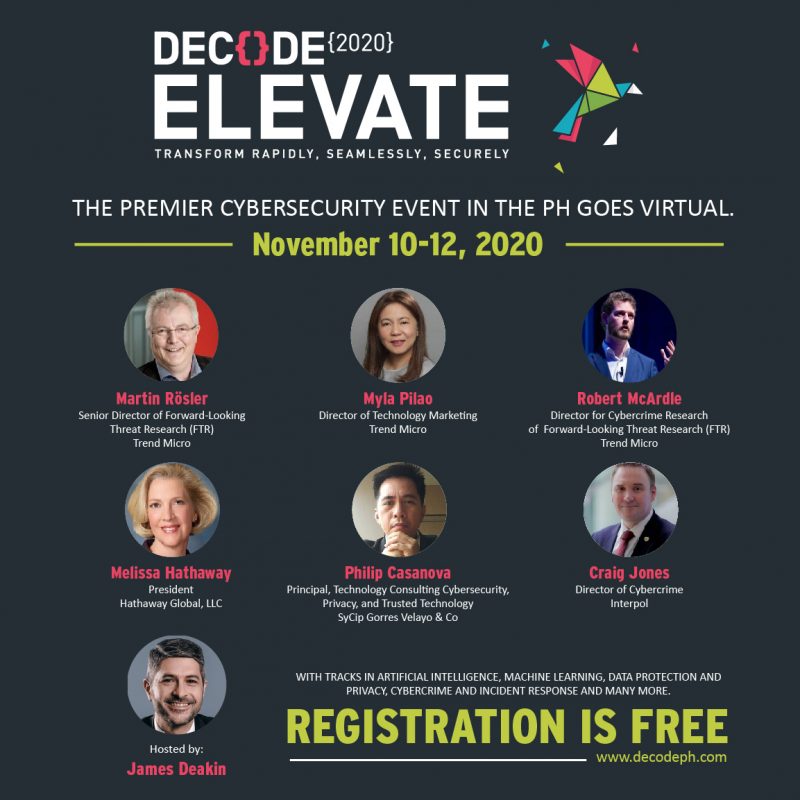 Facebook Notice for EU! You need to login to view and post FB Comments!