He wouldn't be dubbed "The Concert King of The Philippines" for nothing. Martin Nievera has been making news (musical-wise or personal — and that's another story) since the momentous release of his debut album "Take One" in 1982, which featured his massive hit single Be My Lady, THE ultimate
love song that led him to stardom! Not to forget, his very first concert "Wanted: Martin Live!" of the same year, which did a legendary repeat, two weeks later. Only a Martin Nievera could do it!
In his career spanning four decades, Nievera has garnered countless awards and recognitions, and has filled to the brim those huge concert venues not only in Manila, but also around the world.
Fast forward to August 28, 2022, Sunday, at 7pm, Nievera will once again take the center stage with a one-nighter anniversary special, aptly titled "M4D: Martin 4 Decades". He will be performing live with a chamber orchestra at The Music Center's Walt Disney Concert Hall — a pride for the entire Fil-American community! Why, you may ask? It will be the first ever full-length concert by a Filipino solo male artist, unfolding in one of the most iconic landmarks in Los Angeles, California. The Music Center's Walt Disney Concert Hall is known globally for its acoustically sophisticated concert halls and for being an architectural masterpiece, designed by the prominent Frank Gehry.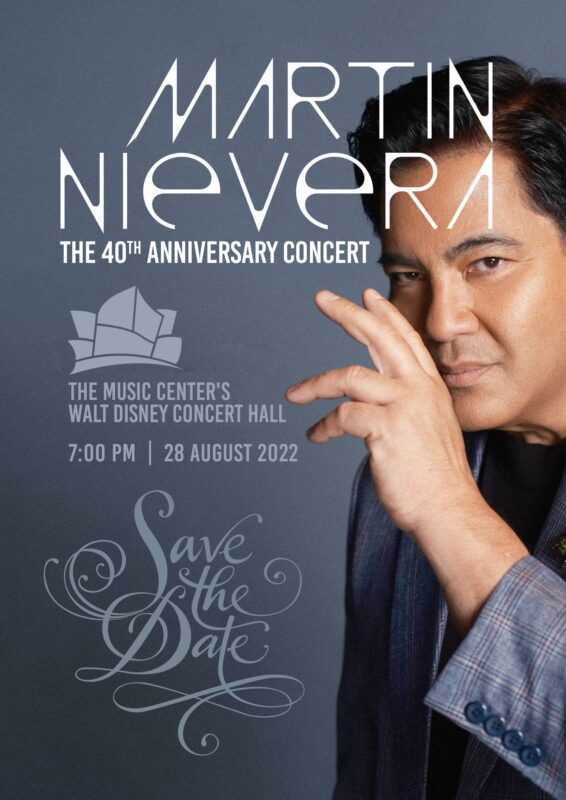 "For the first time in my 40 years I feel like a Lea Salonga-kind-of-singer. I truly don't believe I deserve this beautiful venue because I can sing in the shower, but unlike our nation's pride, world-class star Lea Salonga who was made for the Walt Disney Concert Hall. I will give my best to earn my place in history the way Lea has (done). Wish me luck," Nievera humbly shared.
M4D's co-presenter Jom Jimenez of Spa De Med Beverly Hills (of The Geoffrey Jimenez Group of Companies) believes otherwise as he enthused, "We have confidence in the Filipino talent and what the Filipinos can do. Martin Nievera has proven again and again the he is at par with international singers out there. We're proud to bring Martin to a venue fitting for a concert king!"
Concert director Ted Benito added, "This is a once-in-a-lifetime event for an iconic entertainer who has been enriching the lives of his kababayans around the world for four decades. To be able to bring him to one of the most idyllic performing venues in the world has been a dream come true."
We asked Nievera what could be in store for his fans and audience at the M4D concert, the singer kept mum, but slightly revealed to…"Expect the unexpected. I always do, but aside from the usual big show stoppers I have been known to do for the last 40 years, I will be singing a bigger percentage of my old classic hits. As many as I can do in one night."
Nievera's listeners love his songs for they are "relatable". And so we asked the voice behind these chart-busting hits: If he were to choose his original song, what would best describe his musical and creative journey?
"Oh, wow there are snippets of different songs I have recorded and composed that would describe this journey. I wrote Chasing Time and it tells the story of just that. Me and my battle with time. What!s on the Other Side I wrote when I was battling with the idea of putting an end to my career, struggling with the skin I was in. I Sing was a song given to me by my friend and a headliner in Las Vegas Clint Holmes and is a song about why I am a singer at all. You Are My Song and Kenny Loggins' Forever have
become my song for the people I sing for." Will he be singing these at the show? That's for us to know on the 28th of August!
Truly, keeping The Concert King title for forty years in the biz is a feat! Who would have thought the balladeer in his shoulder-padded coats during the 80s is still singing his songs, 40 years after! The secret of his longevity in the music industry is surprisingly, according to Nievera, not keeping one.
"My secret is to not have one. There are no rules or remedies. No short cuts or special formulas. To make it up the ladder is all timing. Being at the right place at the right time. But longevity doesn!t always guarantee success. It!s the getting there, not the being there. I have failed so often, my talent has become bouncing back. Learning to stand up each time I have been knocked down, on and off stage. Another good tip is to not be the biggest person in the room. Talk less, listen more."
Meanwhile, Executive producer Rosie Chua, co-owner of Arko Foods and Asian Commodities Company – Importer/ Distributor, remarked, "Martin's compelling energy, genuine concern for others, and heartwarming music will be like a musical therapy to heal and unite the Fil-Am community, especially at this time when all of us are still recovering from the pandemic. The concert is here to bring magic to all of us and that through music, we give the bayanihan spirit its true essence."
Part of the proceeds of the concert will go to charitable institutions, such as among others: Incarnation Catholic Church (Glendale, CA), Henry Chen's The JIR Foundation, Search to Involve Pilipino Americans (SIPA), Philippine (emergency) Disaster Relief Organization (PeDRO), and Apl.de.Ap Foundation International.
M4D: Martin 4 Decades is co-presented by Spa De Med Beverly Hills and Philippine Airlines (PAL) and sponsored by Asian Commodities Company – Importer/Distributor, The Bookeepers R Us, Island Pacific Supermarket, The Embotidos, and Asian Journal.
For tickets to M4D: Martin 4 Decades, please message Camille at (747) 333-1717 or
Maricar at (818) 426-4534. Select your own seat via https://my.laphil.com/en/syos2/
performance/7956